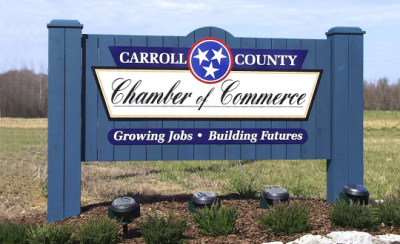 Each major highway entering Carroll County has a sign like this already in place or plans are being made to acquire locations for one of these signs. Neat professional signage welcoming tourists and prospective industry to your area is a vital part of economic development.
These signs are approximately six feet tall by nine feet wide. The main structure is built from 5/4 treated 6" planking and finished with satin latex for durability. The graphics are created in 2-part paints and high performance cast vinyls on 3/16" composite aluminum/fiberglass cut-out panels.
BACK TO SIGNAGE
NOTICE: if you have arrived here through clicking a link from a SEARCH ENGINE listing, you may be missing a lot
of our design samples, use this link to go to Elliott Sign & Design Home Page to view our complete web site.
©1998-2010 All images, design/layouts and artworks are the
copyrighted property of Elliott Sign & Design, all rights reserved.