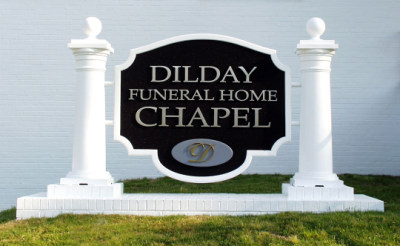 This monument type sign shows a professional image and gives
their clients the feeling of an established and caring business. The
newly remodeled building needed an exterior sign styled to tie into
their main Funeral Home located across the street, this filled their
needs and has achieved many compliments to their business.
The sign is constructed of composite aluminum panels sandwiched
over high-density polyurethane with a raised custom carved border
around the perimeter. The black colored background is finished in
an age-old technique called 'smalt', this consists of coarsely
ground black slag-glass adhered with black enameled glue and
makes for a very permanent surface. Lettering is laser-cut from
1/2" thick aluminum plate and finished in its natural metallic color,
the monogram 'D' is laser-cut from 3/8" polished marine brass and
mounted on an oval panel of high-density urethane. Columns are
wood construction to match those on the front of the building and
are capped off with high-density urethane finials finished in satin
latex and installed on a painted brick base.
BACK TO SIGNAGE
NOTICE: if you have arrived here through clicking a link from a SEARCH ENGINE listing, you may be missing a lot
of our design samples, use this link to go to Elliott Sign & Design Home Page to view our complete web site.
©1998-2010 All images, design/layouts and artworks are the
copyrighted property of Elliott Sign & Design, all rights reserved.