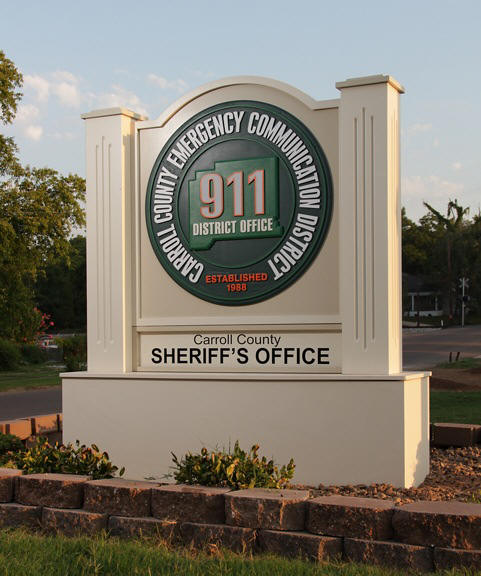 This sign is constructed from 3/4" thick sheet PVC with a dimensionally routed logo and fluted posts.
Below shows some of the steps involved in creating this type monument sign.

Base is built with 2x8 steel framing studs and wrapped with 3/4" sheet PVC. Corners are glued up with PVC compound and countersunk screws then filled, sanded and painted with exterior acrylic latex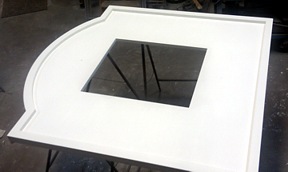 Sign background was routed to shape and custom moulding made to frame the perimeter.
Posts are built from PVC, then CNC machined to flute the faces. Glued joinery, screwed together and painted.
Logo is CNC machined from 3/4" PVC with lettering and borders raised 1/4", finished with acrylics.
Center of logo is an applied piece machined from PVC.
Finished center logo waiting for final assembly at job site.
Sign was installed on two 6x6 pressure treated posts set in concrete and the base was lowered over the posts and attached with screws, the base top was then set in place and the custom post covers were installed. The background panel was attached to the post and the rest of the moulding installed. The center logo was then attached with screws and the post caps were set.
After a few screw heads were touched up the job was finished awaiting the landscapers.
NOTICE: if you have arrived here through clicking a link from a SEARCH ENGINE listing, you may be missing a lot
of our design samples, use this link to go to Elliott Sign & Design Home Page to view our complete web site.
©1998-2010 All images, design/layouts and artworks are the
copyrighted property of Elliott Sign & Design, all rights reserved.