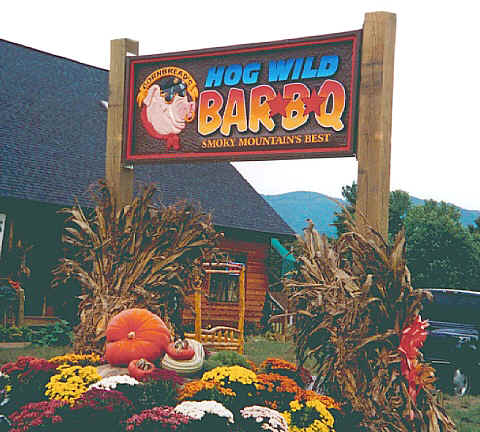 Hand-carved from HDU, a synthetic high density urethane sign material measuring 36" tall and 96" long with a depth of 3" and a raised border making this double sided sign over 5" thick. Carved for a tourist area business in Townsend, TN just a few miles from Gatlinburg this advertising piece helped get a new business off to a great start. The owner Larry "Cornbread" Fowler stated, "We've had more compliments on our new sign, it's good to know your sign draws such positive attention to your business"
BACK TO SIGNAGE Page 2
NOTICE: if you have arrived here through clicking a link from a SEARCH ENGINE listing, you may be missing a lot
of our design samples, use this link to go to Elliott Sign & Design Home Page to view our complete web site.
©1998-2010 All images, design/layouts and artworks are the
copyrighted property of Elliott Sign & Design, all rights reserved.