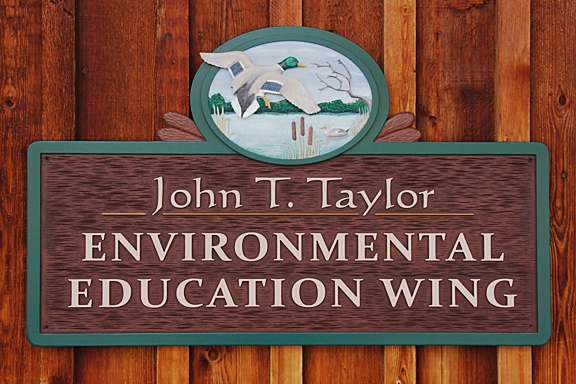 Routed from 3/4" MDF and finished with acrylic latex, this project was commissioned
through Brown Sign Company of Paris, TN for the State of Tennessee Wildlife Education Center of Paris.
Custom design and manufacturing by Elliott Design. The sign panel was CNC routed to create a woodgrained background and colored with latex stains, lettering is painted with acrylic latex as is the sign border.

Handcarved pictorial of the Mallard is built up from 1/4" PVC. The background of the oval was CNC machined 1/8" deep then hand carved to add detail to the elements. Mallard duck is handcarved from 1/4" PVC and laid over the pictorial to add greater depth. Pictorial painted with satin acrylic latex.
NOTICE: if you have arrived here through clicking a link from a SEARCH ENGINE listing, you may be missing a lot
of our design samples, use this link to go to Elliott Sign & Design Home Page to view our complete web site.
©1998-2010 All images, design/layouts and artworks are the
copyrighted property of Elliott Sign & Design, all rights reserved.